Coming Soon to GGBC
11/6 Brian Sobel: "The Fighting Pattons"
11/13 Doug Noonas: Postal Inspector talks About the Unibomber
11/20 Chris Austria: Safaris Ltd., Uganda
11/27 Dark for Thanksgiving break
RECENT Speakers
A San Francisco native of Hawaiian/Italian decent. His mother is from Hawaii and father was an Italian from New Jersey. Dan always commanded the stage/center of attention, from an early age at family functions. It was a natural transition for him to speak on camera and before live audiences! An entrepreneur having help start X2Biosystems-technology for head impact monitoring, Dan also works at Skillz in San Francisco, the fastest growing company in the world with revenue of $54 million in 2018, according to INC magazine. Dan's an avid surfer, and volunteer year round as a coach at the Boys and Girls Club of San Francisco.
MAR 13: CDR Jennifer Free, USN: The Challenges of Recruiting America's Best and Brightest
Commander Jennifer Free is a native of Cleveland, Ohio. Cmdr. Free is a warfare-qualified surface warfare officer. She enlisted in the Navy in 1993 and served 3 years as a hospital corpsman. She graduated from the University of Rochester in 2000 and received her commission through the Naval Reserve Officer Training Corps. She also attended the Naval Postgraduate School in Monterey, California where she earned a Master of Science in systems engineering in 2006.
MAr 6: Attorney, Jen G. Lee - The Elephant in the Room–Dealing with Financial Stress
Jen Grondahl Lee (JenLeeLaw.com) is a debt and credit strategy attorney. She helps her clients examine their financial situations and provide long-term solutions for reducing debt and stress in their lives. Sometimes, the solution is bankruptcy, but oftentimes, there are other solutions we can work through to get back on track. She has been featured in articles in Consumer Affairs, US News & World Report, and various websites relating to credit, debt, and bankruptcy. She has 2 girls and they are involved in several dog rescue organizations.
Feb 27: Italina Kirkins- Superstar Linked In Pro Shares Social Media Presence INSIGHTS - Real ESTATE PROS Must See!
Italina Kirkins, JD, understands the power of LinkedIn for Professional Real Estate Agents. Ms. Kirkins advises professional Real Estate Agents in branding themselves on the popular business focused social media platform. A popular speaker with years of experience in social media, Italina brings deep insights into the do's and don'ts of LinkedIn and how you can get the most benefit from this powerful business platform. If you're a real estate agent, don't miss this chance to meet a true social media professional.
Feb 20: Greg McIntyre Interview with Joszi Meskan: THE FUTURE OF SAN FRANCISCO'S INTERIOR DESIGN INDUSTRY
Join us for an insightful, fun and no-punches pulled discussion about San Francisco's Interior Design Industry. Design Legend, Joszi Meskan interviews her dear friend, CEO of Windows & Shades, Greg McIntyre.

About Windows & Shades —
When Jack Shears and Adam Window opened Shears & Window in 1976, they held a creative vision that has continued to sustain us to this day. That vision was to offer home furnishings & textiles to interior designers that exemplify the finest creative talent that the design industry has to offer.
In our furniture showroom, located on the second floor, we showcase an extensive collection of fine furniture, lighting, and accessories, many with custom capabilities. Our primary focus is traditional with many of our lines offering products that are transitional enough to bridge with contemporary.
Our textile showroom, located on the fourth floor, features a diverse collection of fabrics, leathers, wall covering, trimmings, and drapery hardware. We offer a beautiful array of products that include fine Italian velvets, intricate French embroideries, hearty Belgian linens, and decorative Portuguese trimmings.
We invite you to visit our showroom and hope that you will see for yourself, the outstanding collections we are able to offer the most discriminating client.
Feb 13: Linda Shively - Laugh Your Way To Joy!
Linda Shively works with resilient, capable entrepreneurs who feel frustrated in their business and are ready to have the results they want. After navigating the diagnosis and death of her almost 4-year-old-daughter, healing from an abusive relationship, and starting her own business, Linda inspires her audiences and guides her clients to move through difficult challenges to achieve success and joy in business and life. She also shares how laughter has the power to promote physical and emotional health and well-being. Linda has studied brain and mind function for 30 years. In addition to her Bachelors in psychobiology from UCLA, Linda is certified as a Master Life and Executive Coach, a Neuro-Linguistic Programming (NLP) Master Practitioner, a Master Hypnotherapist, and a Laughter Yoga Leader. A powerful speaker, she has touched thousands of individuals, businesses, and organizations with her inspirational message: no matter the level of stress, frustration, or difficulty, the challenges you face do not have to limit your ability to create a life filled with laughter, meaning, and joy.
February 6th Sara B. Hart, PhD.
Author of "The UpSide of DOWNSIZING" Sara B. Hart will discuss "getting to ENOUGH"
Sara Hart, PhD has her own management consulting company, Hartcom, which she launched 20+ years ago. Hartcom focuses on leadership development, coaching, and team building inside organizations. Much of Sara's work focuses on how to build a Thinking Environment (TimetoThink.com) in which people can do their best thinking.
ReCAP: Creative Business Growth LUNCH
GGBC's all-star Creative Business Pro Start-Up experts discussed what it takes to grow a creative-focused business in the Bay Area. Thanks to the generous support of First Republic Bank, the event raised over $1,100 over lunch. MajGen Jan Huly was the keynote speaker and spoke in honor of Pearl Harbor Day and shared with the attendees the mission of Marines Memorial and upcoming events.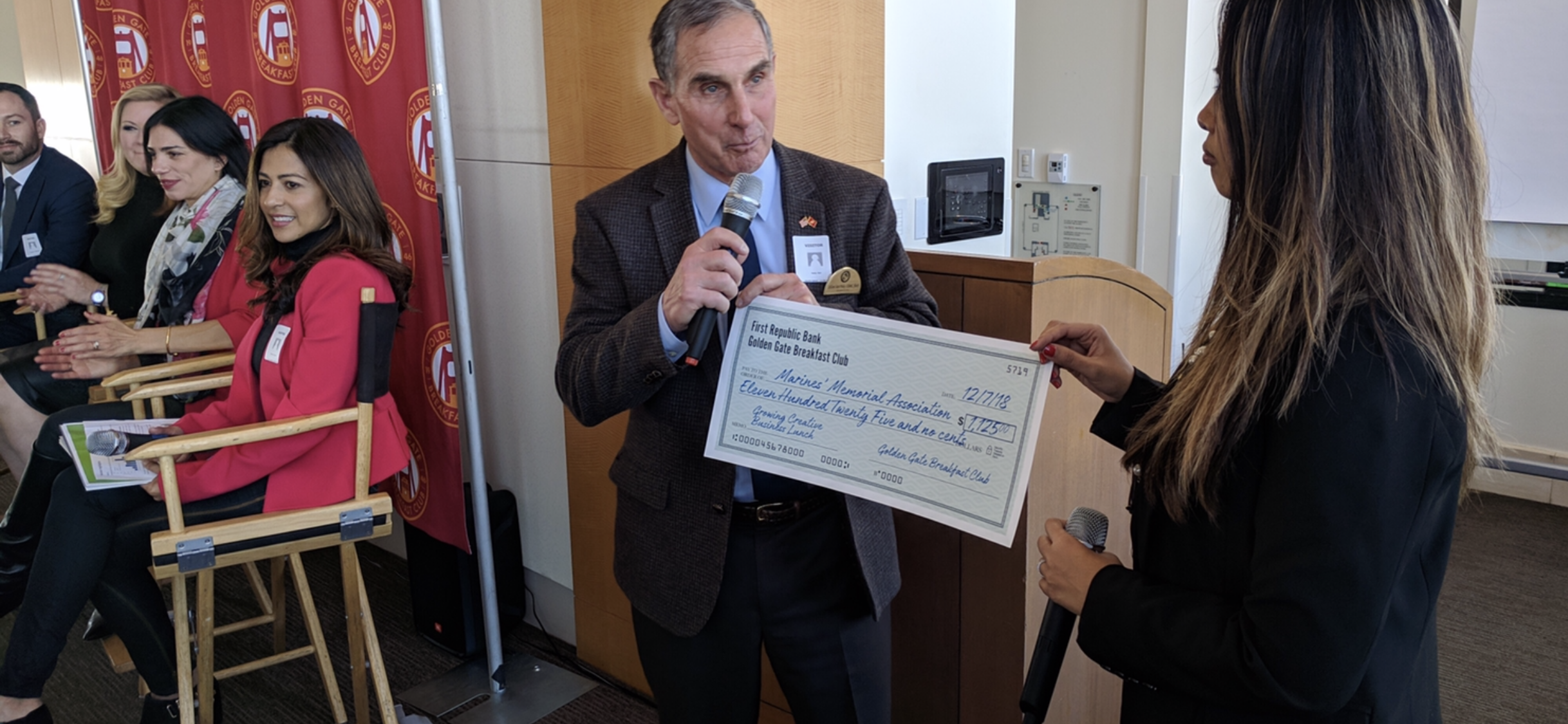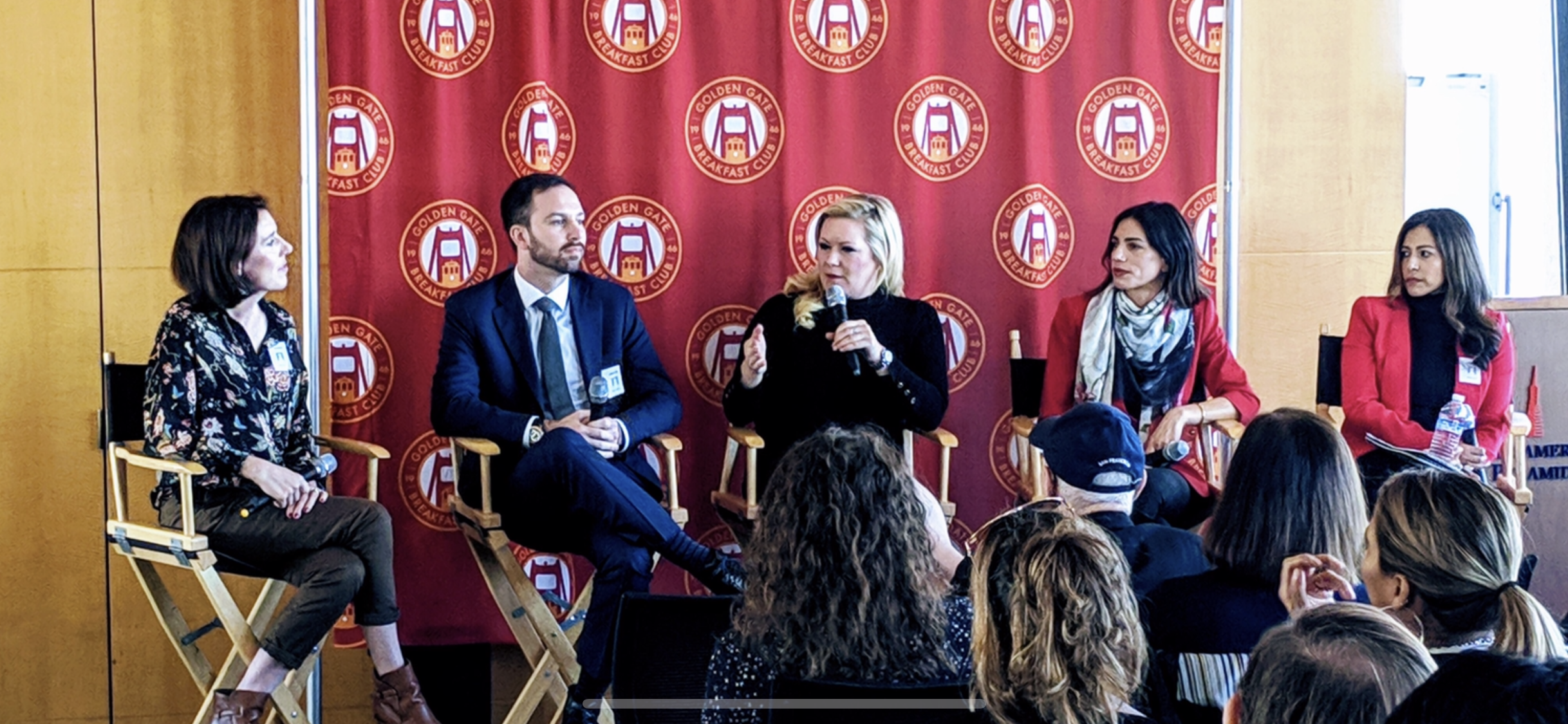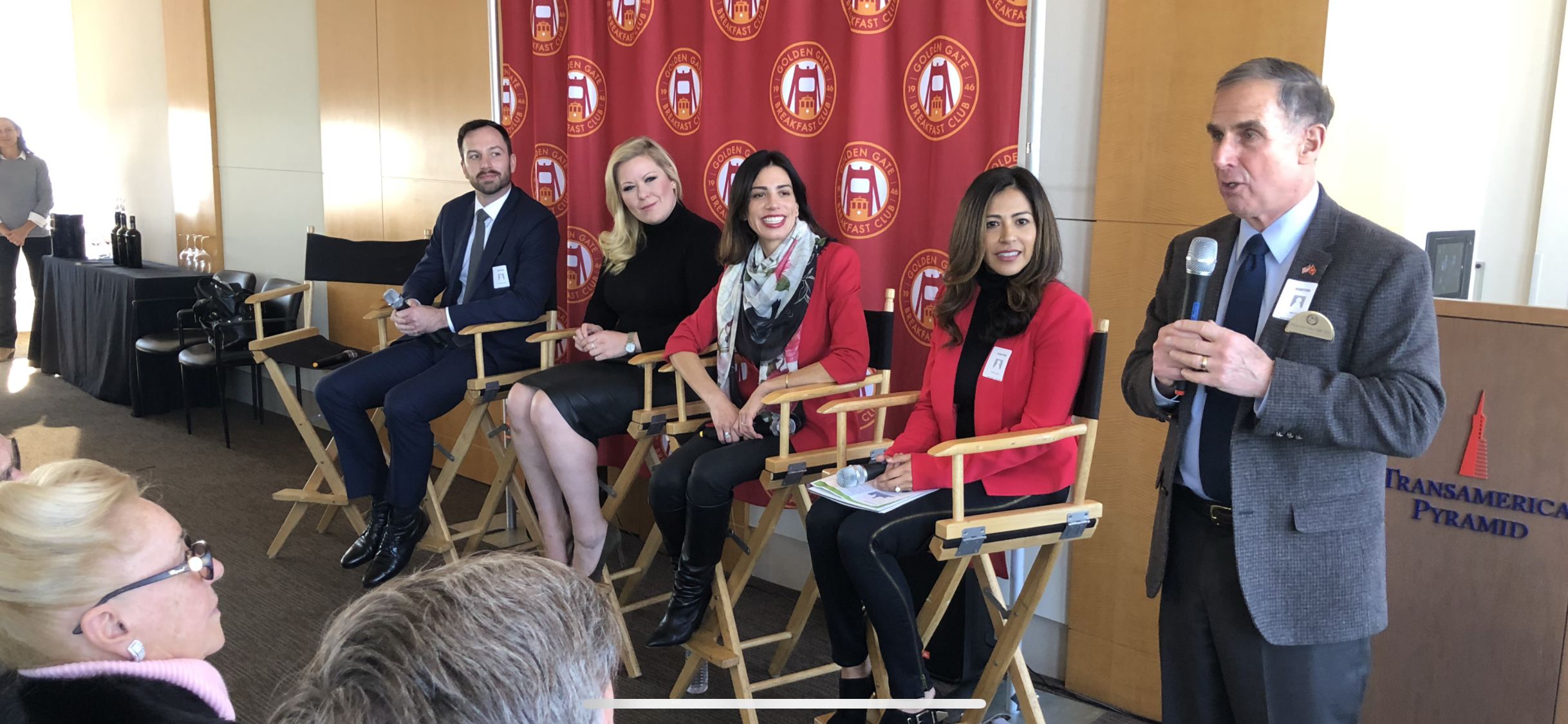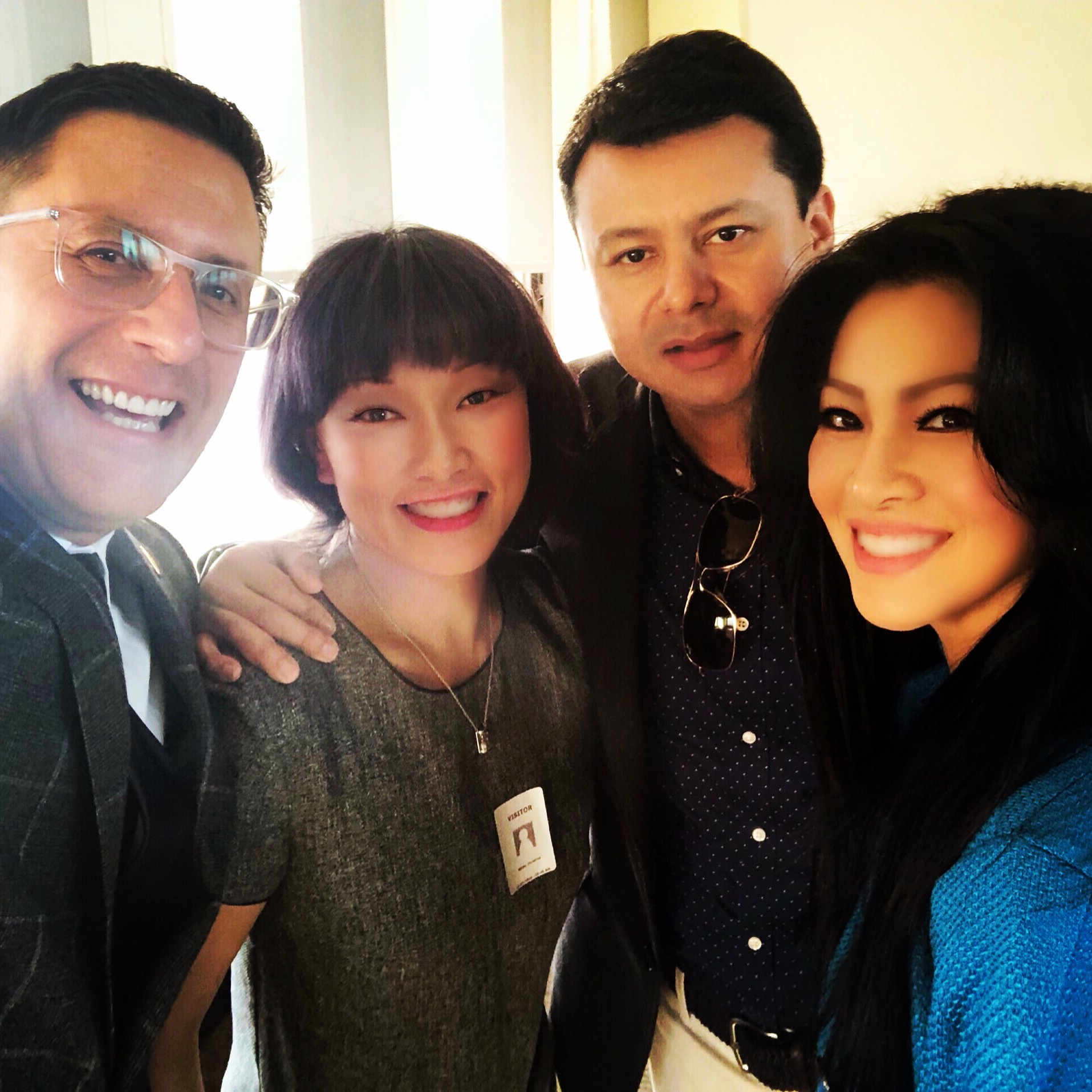 Kellie Menendez, veteran investor, marketing pro, artist and co-founder of Half Full.

Liz Curtis, Founder and CEO of Table+Teaspoon

Laura Moreno, Managing Director for New Listings & Capital Markets at Nasdaq

Matthew Coleman, Salon Manager, Harry Winston

Antonio White, Moderator, GGBC Club President, veteran startup marketing pro
With a limit of only 50 people in attendance, you'll get time to ask your toughest, most challenging questions to our expert panel of Creative Business Pros. In addition, we'll serve a light lunch including beverages, plus you'll get an opportunity to chat with other professionals involved with creative focused local businesses.
Don't miss this rare opportunity to hear from talented, successful and accomplished business leaders who are focused on growing their creative pursuits and helping you do the same.
You get access to our panelists, a lovely light lunch with beverages, networking with other creative business owners and advisors, all at the top of San Francisco's iconic Transamerica Pyramid building. Very limited tickets available. All proceeds go to GGBC's year-end charitable giving program– and thanks to a sponsorship from our friends at First Republic Bank, 100% of your ticket price is tax deductible.
Come join the fun!
The Golden Gate Breakfast Club Meets Wednesdays at the Historic Marines Memorial Hotel
To book your next important event at this San Francisco Treasure, click here.